Es war mal wieder soweit: ein HORSE the Band Konzert.
HORSE the Band spielen Nintendocore, beziehungsweise sind sie gar Namensgeber dieses Genres. Für mich persönlich ist ihre Musik jedenfalls pure Energie und ihre Konzerte gleichen einem Kraftwerk.
Ursprünglich hätten HORSE the Band im Magnet Club gespielt. Doch vermutlich wurden im Vorfeld nicht genug Karten verkauft, jedenfalls wurde das Konzert kurzfristig in den daneben liegenden (kleineren) Comet Club verlegt. Besser hätte es eigentlich nicht sein können – Der Comet Club hat eine wirklich angenehme Größe bzw Kleine und der war dann auch gerappelt voll. Das Konzert waren – wie erwartet – 1,5h pure Energie und das geilste Club-Konzert das ich in Berlin bisher sehen durfte.
Hier zwei Schnappschüsse: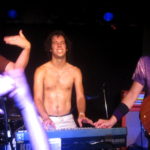 Und ein Video:
Hint: Man achte mal auf den Keyboarder – der geht ab, das ist eine Pracht.